Albright Wins Season Opening BCRA Midget Lite Main at Placerville Speedway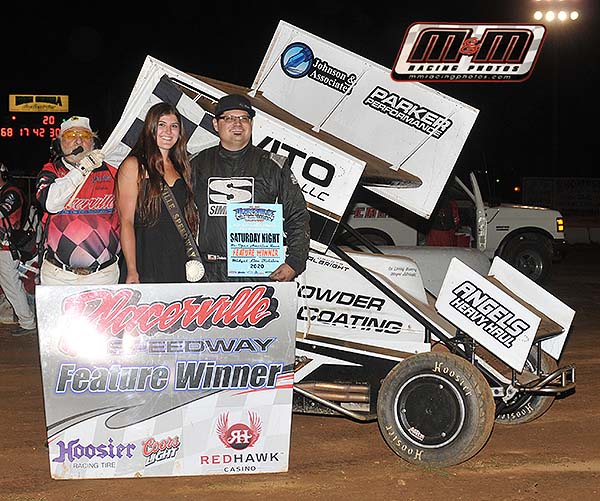 Albright Wins Season Opening BCRA Midget Lite Main
By, Mark sublett
Placerville, Ca……Dakota Albright from Waterford held off defending champion Scott Kinney from Roseville to win the season opening Bay Cities Racing Association Midget Lite 20 lap main event Saturday night at Placerville Speedway. The race was run with no fans in the stands due to covid-19, a first in the 55 year history of the quarter mile clay oval located at the El Dorado County Fairgrounds. Albright was quick to thank promoters Scott and Kami Arnold for all their efforts to get racing going again and to all the fans watching on the internet.
Pole sitter Albright beat Shane Sexton into turn one of the first start to lead until Harlee Aguilera flipped in turn four to bring out the red flag stopping action. Aguilera walked away from the scene. On the next attempt to get going Albright once again took the lead but this time S. Sexton got a run on the outside down the backstretch to take over the top spot. That was shorlived however as Albright raced back past to lead lap 2. 2006 BCRA Midget Lite champion Jeff Griffin moved up to second early until S. Kinney got by him on lap 9. Racing was fast and furious in mid pack on back through the next green flag laps. In the end Albright won it well with S. Kinney a few car lengths back. Long tow AJ Bender from Yuca Valley finished third after starting seventh. Brent Sexton from Lakeside raced fourth with Eric Greco from Palmdale rounding out the top five. Indio driver James Turnbull III won the hardcharger of the race for his fourteenth to sixth place run. Oakdale's Danika Jo Parker raced seventh followed by Dominic Del Monte from Lakeside, home town hero Terry Bergstrom and 2018 Champion Hunter Kinney in the top 10.
A great field of 22 Midget Lites towed to compete on the Placerville's red clay. With races far and few between due to the ongoing pandemic many teams towed from Southern California to get some laps in. Tonights action featured some of the best of the west coast Midget Lite teams in a north versus south battle. Three 8 lap heat races were run with B. Sexton, Berio and Griffin taking wins. The next race for the BCRA Midget lites is back at Placerville on July 11th. This date is tenative as state and local guidlines regarding precautions due to covid-19 change often. The annual "Wayne Albright Memorial" originaly scheduled for June 27th at Merced Speedway has been postponed with hopes of it being rescheduled at a later date.
SUMMARY:
06-13-20 – Placerville Speedway
BCRA Midget Lites
20 Lap A-Main: 1. Dakota Albright 2. Scott Kinney 3. AJ Bender 4. Brent Sexton 5. Eric Greco 6. James Turnbull III 7. Danika Jo Parker 8. Dominic Del Monte 9. Terry Bergstrom 10. Hunter Kinney 11. Jeff Dyer 12. Jim Riddell 13. Wink Schweitzer 14. Gus Carcine 15. Jeff Griffin 16. Jaden Meyer 17. Shane Sexton 18. Dave Bezio 19. Harlee Aguilera 20. Josef Ferolito
HEAT 1: 1. B. Sexton 2. Albright 3. Greco 4. G. Sexton 5. Parker 6. Schweizer 7. Aguilera 8. Ferolito
HEAT 2: 1. Bezio 2. S. Kinney 3. H. Kinney 4. Dyer 5. Del Monte 6. Riddell 7. Bergstrom
HEAT 3: 1. Griffin 2. S. Sexton 3. Binder 4. Turnbull III 5. Meyer